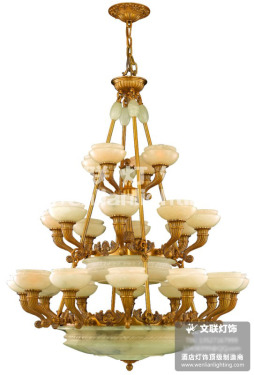 The reporters of the workshop learned that low-carbon and environmentally-friendly lighting is the most popular topic and it is also the most popular topic today. The marble lamp is more expensive than other lamps. Why is it so expensive? Now we interview experts who specialize in researching marble lamps and experts to answer for our consumers: marble lamps use imported Spanish marble lamps, express feelings in the purest natural colors, integrate Chinese and Western styles, and combine ancient and modern styles, which make people feel time All of a sudden it returned to ancient times, and the light of individuality was dazzling and crystal-like, and the antique marble lamps gave people a sense of classical emotions.
  
Antique marble lamps, luxurious, noble, elegant, natural marble feel smooth, delicate and light color and quality, light effects temperament, high-end places often use lamps, marble lamp lighting all the longest life Light fixtures. Marble is a natural sedimentary material for thousands of years. It is wear-resisting without deformation and can reach a hundred-year life.
  
  
Zhongshan Wenlian Lighting Co., Ltd.,
located in China's Lampu
-
Guzhen Town, is a professional lighting company integrating product design, lighting design, R&D, production, sales and engineering services. Wenlian Lighting is a global top manufacturer of lighting products and has a powerful R&D design and manufacturing system. The products cover crystal lamps, lobby lamps, room lamps, engineering lamps, marble lamps, copper lamps, European lamps, modern lamps, sheepskin lamps, wooden arts. Lamps, candle lights, non-standard lights, etc., is the preferred brand for hotel lighting! Successfully
provided lighting, lighting, manufacturing, design, and installation services
for the
People's Great Hall
, Sofitel Guangzhou, China Hotel, Guangzhou China Petroleum Building, etc.; long-term Ritz Carlton, Grand Hyatt, Kempinski, Crown Hotel, Macau's City of Dreams and other hotels, contractors, distributors provide hotel lighting overall solutions!
  
Wenlian Lighting has successively won the
"
Guangdong Famous
Brand
Products
"
,
"The
Industry's Most Influential Strong Crystal Lighting Brand
"
,
"
China's Lighting Industry's Most Influential Enterprise
"
,
"
Contract-honoring and Promise-keeping Enterprise
"
, and
"
China Hotel Lighting Top Ten Brands"
"
,
"
Designer's Favorite Lighting Engineering Brand
"
,
"ISO9001
:
2000
International Quality Management System Certification
"
,
3C
Certification, US
UL
Certification, European
CE
Certification, European
GMC
Certification, etc.; Wenlian Lighting Chairman successively received
2009
Lighting Lighting
"The
Top Ten Persons of the Year in the Industry
"
, the
2010
China Lighting Lighting Industry
"
Best Corporate Culture Construction Award
"
.
Zhongshan Wenlian Lighting Co., Ltd.
brings you a feast of lighting!
Established in 1956, during the China first five-year-plan, Henan Xintaihang Power Source Co., Ltd. (Factory No.755) was the first R&D and manufacturing enterprise in China in the field of alkaline storage batteries and modular power system and it was also the military factory which owned the most varieties rechargeable batteries in domestic. Taihang was located in national Chemistry and Physicals Power Source Industrial Park, Xinxiang City, Henan, China.
Medium Dishcharge Rate Nickel Cadmium Battery, KPM10~KPM1000, 0.5C ≤Max. discharge current <3.5C
The nickel–cadmium battery (NiCd battery or NiCad battery) is a type of rechargeable battery using nickel oxide hydroxide and metallic cadmium as electrodes. The abbreviation NiCd is derived from the chemical symbols of nickel (Ni) and cadmium (Cd).
Medium Rate Nicd Battery KPM Series
Ni Cd Rechargeable Battery,Kpm500Ah Battery,Medium Discharge Rate Nickel Battery,Nickel Cadmium Battery For Ups
Henan Xintaihang Power Source Co.,Ltd , https://www.taihangbattery.com