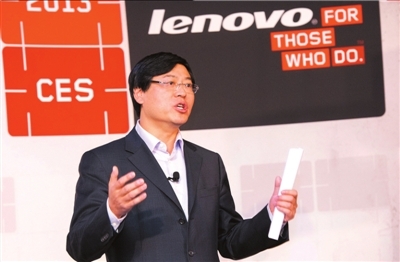 It took nearly 30 years for Lenovo to grow from a workshop-style company that sells Hanka to the most famous Chinese company in the world and will soon be on the pinnacle of the global PC (personal computer) mountain. However, what worries Yang Yuanqing is that this mountain itself seems to be slowly disintegrating.
Four years ago commitment

On January 9, 2013, Yang Yuanqing, Chairman and CEO of Lenovo Group, took a one-day morning interview with reporters from several regions in Europe, America, Asia-Pacific and China. This is Lenovo's largest participation in the largest Consumer Electronics Show (CES) in the United States for the third consecutive year.
Every year, Yang Yuanqing has arranged for half a day to meet and communicate with a number of media around the world. At this year's meeting, Yang Yuanqing's talks were quite strong. When the host announced the media question and answer time at noon, Yang was surprised to request an extension. Time communicates with the media and responds to more acute issues such as when to think about retirement. It is also easy to cope with "I am still young."
Yang Yuanqing jokingly stated that he is actually the chairman, CEO and COO (COO) of Lenovo. However, he is obviously satisfied with himself and Lenovo's current status. Behind ease, Yang Yuanqing completed his commitment to the Lenovo Group's board of directors four years ago and led Lenovo to the world's top PC leader.
Four years ago in early February 2009, Lenovo Group announced that its founder, Liu Chuanzhi, became chairman of the company and Yang Yuanqing became CEO of the company. The original CEO of the company, American Amelio, was replaced. At that time, Lenovo lost $97 million in the quarter, describing it in the words of Liu Chuanzhi as "Lenovo has stood on the edge of the cliff."
At the time when Lenovo was most critical, he was put on the front line as the CEO. Yang Yuanqing convinced the company's board of directors to give him four years. He promised to the board that he would take the company out of the quagmire that had a total loss of 226 million U.S. dollars at the time, and the latest financial data showed that Lenovo had achieved a net profit of 164 million U.S. dollars in the last quarter; he also promised to put Lenovo in the world. The PC market share has increased from 7% to double digits, and Lenovo's share is now close to 16%. It is about to complete the overtaking of HP and become the largest company in the world.
Offensive and defensive strategies

When Yang Yuanqing promised to the Lenovo Board of Directors four years ago, the only requirement was to allow the company to continue to increase investment to support its "defense + offense" strategy.
Yang Yuanqing quickly took down one-tenth of the company's employees after he was transferred to Lenovo's CEO to take over the company in February 2009, and ensured the two core profit sources of the personal computer business and the Chinese market; and mature markets in Europe and the United States, Japan, and other overseas markets. In emerging markets such as India, Russia, and Brazil, Yang Yuanqing requires great efforts to open up. The former is called "defense" and the latter is called "offensive."
Whether it is attacking or defending, Lenovo has invested heavily. First of all, in the Chinese market, Lenovo has occupied 36% of the market share in the PC industry and encountered a ceiling that is difficult to break through. Yang Yuanqing decided to seek a breakthrough in the mobile phone business. Lenovo's smart phone business was sold for $100 million during Amelio's time. After Yang Yuanqing served as CEO, it regained 200 million U.S. dollars and sent out Liu He, a highly-regarded Lenovo local executive during the Amelio era.
After more than two years of development, Lenovo's smartphone business shipped 7 million units in the third quarter of 2012, which accounted for 14% of the domestic smartphone market, ranking second only to Samsung. During the CES, Lenovo executives shouted out the mobile phone business beyond Samsung's goal.
Compared to "defense", Lenovo's investment in the "offensive" side is even greater. In 2011, Lenovo acquired Medion, a German electronics company, for US$738 million. In the same year, Lenovo invested US$450 million in a joint venture with Japan's NEC. This made it the largest PC company in Japan. In 2012, Lenovo's largest acquisition in Brazil was US$148 million. PC company CCE, making its share of the PC market in Latin America soared.
In addition to the large-scale acquisitions, Lenovo paid a lot of money to dig people away and took away Acer's former CEO Ranci. He hired David Lohmann, a former HP and Apple executive, as CMO (Chief Marketing Officer).

Facing new challenges

Lenovo currently holds more than 10% of the PC market in 34 countries or regions in the world, and it is the first place in the world's top seven PC market. In terms of scale, Yang Yuanqing led Lenovo to the top, but it has always faced two embarrassing situations. The global PC market continues to slow down. Hewlett-Packard and Dell are all seeking to transform. Hewlett-Packard even considered giving up PC business; Lenovo is almost unprofitable in terms of consumer products in most of the overseas markets, and it is in a position of low profit or even losses, and even if the entire Lenovo Group's profitability makes investors unhappy.
For the shrinking of the PC market, Yang Yuanqing proposed PC will be associated with smart phones, tablet PCs, smart desktops, smart TVs, etc. to complete the "PC +" strategy. At the CES conference on January 9th, Yang Yuanqing said that the PC will not die, and the multi-person interactive intelligent desktop "Horizon" will be used to enrich the "PC+" multi-screen product line.
Yang Yuanqing said that the next step is to start looking for higher profits. On January 6, Lenovo Group announced that the company will be divided into two major business groups - Lenovo Business Group and Think Business Group. Yang Yuanqing hopes that the Think brand will compete with Apple and plans to open Think Stores similar to Apple retail stores. Yang Yuanqing clearly hopes to gain more profits from the Think brand and help the entire Lenovo Group to improve its profitability.
When Yang Yuanqing and Lenovo enjoyed the last kilometer of the summit, they had to think differently about new challenges after the summit. The new challenge means that Lenovo must make new changes. Under the constraints of the industry's prospects and economic environment, the changes this time will probably be no less difficult than the integration of Lenovo and IBMPC. In December of last year, Yang Yuanqing pointed out the difficulty and key point of this change in his acceptance speech when he was awarded "2012 China Economic Year Person" by CCTV. "My dream is that one day China will not only become a factory in the world, but also Become a global innovation center."
12mm Key Switches including Electric Key Switch, Key Lock Switch, CAM Lock , belongs to power lock. It can save space and easily operate with the "innovation and convenience" design concept. The whole series products are widely used in human-machine panel so it can greatly reduces the space of the control panel. Meanwhile,its shape is different from the other switches,for example Metal Switches , Automotive Switches, Push Button Switches.
Production control of 12mm On Off Key Switch: In order to provide competitive price, quality and stable delivery cycle of the whole series of 12mm power lock switches, the company has the world's advanced CNC production machine and a number of fully automated processing equipment and has successfully imported Toyota lean production system.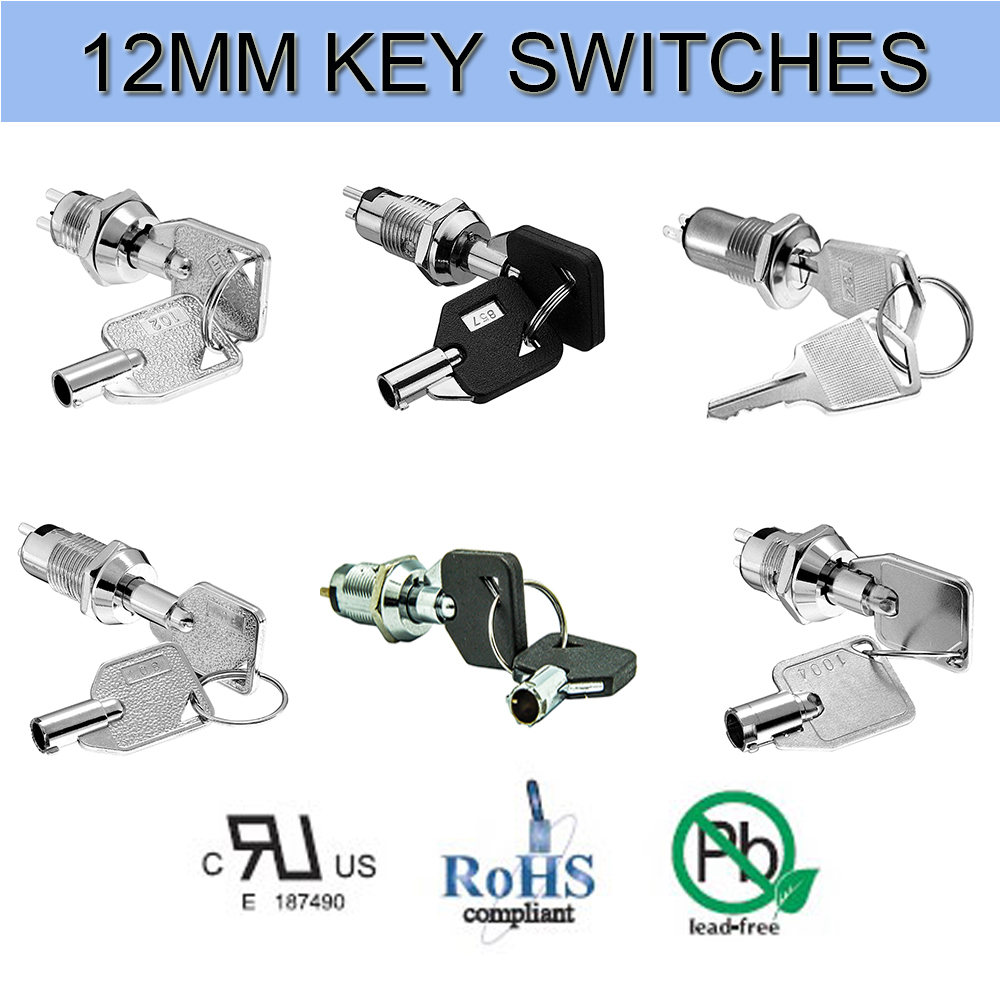 It all adopt the One-stop operation and automated production assembly from development and design,mold manufacturing, zinc-aluminum alloy die-casting, plastic injection, stamping, lathe polishing, baking varnish, product assembly, to quality assurance inspection, etc. As a result, we have accept Japan, Europe and the United States hardware construction industry, as well as large European and American companies commissioned to undertake the manufacture of various locks and related hardware parts.
Diversification of 12MM power lock products: The whole series of power lock products have complete functions. In order to improve the safety and confidentiality of customers' using experience, we could offer customers with different keys to achieve the effect that the keys cannot open each other.
12MM Key Switches
12Mm Key Switches,Electric Key Switch,12Mm Key Lock Switch,12Mm On Off Key Switch
YESWITCH ELECTRONICS CO., LTD. , https://www.yeswitches.com