For 3D printing technology, 2014 is a year of rapid development. In this area, there are more money, more companies and more creative ideas than ever before. In the field of 3D printing, we have found that no less than 50 new companies are raising funds, which does not include more than 40 projects on the crowdfunding platform Kickstarter. It can be expected that these activities will lead to the leapfrog development of 3D printing technology in 2015, and we predict its five major trends:
1. Better, faster, cheaper
Entrepreneurs are moving into 3D printing from all angles, even though it is a new technology that can print, scan, create and share 3D content. To date, 3D printing has focused on manufacturing consumer machines. However, compared with the traditional method, 3D printing lacks precision, is difficult to form scale, and material selection is quite demanding. However, the cost of 3D printing is rapidly declining, and competitors are pushing the technology to improve, making it easier to use and more powerful. Because of the large number of companies engaged in 3D printing and the lack of killer applications, start-ups must be very difficult to start a business, but consumers should benefit from it.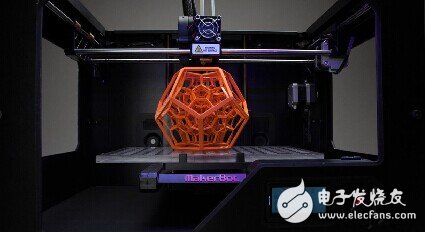 Prospects: Functional materials are on the market, and with more advanced 3D printing technology, we are likely to see more powerful desktops coming out in 2015. Many start-ups are also climbing the top of the value chain to create faster, lower-cost industrial machines. Commercial users are particularly interested in metal printers, and I predict that more cheap 3D printing technology will be seen in 2015.
2.3D printing field mergers and acquisitions increased
In order to continue to maintain its leading position in the fast-growing 3D printing field, 3D Systems and Stratasys, the current 3D printing company, are implementing a simple strategy: either to acquire new start-ups or to reject them outside the industry. We have seen Stratasys merge with Objet and acquire MakerBot Industries; 3D Systems sues the startup, Formlabs. These tactics may be counterproductive, making integration mergers more difficult. In the past three years, nearly 50 companies have been acquired in the 3D printing field. In the last quarter, 3D Systems and Stratasys' stock market performance was not ideal, which greatly affected the acquisition of the two companies. Due to the expiration of the patent, the printer giant Hewlett-Packard announced its entry into the field of 3D printing. Coupled with the accumulated efforts of countless start-ups, the company that was once protected in the 3D printing field began to decline sharply.
Forecast: The current 3D printing company can't play as much power as before. As development slows, they need to accelerate the development of new innovations and provide consumers with better, cheaper solutions to drive the rapid marketization of 3D printing technology. The key aspects that can be improved are: print speed and material price.
The rise of the 3.3D model
Many companies have begun to try to print in-store 3D models to a limited extent, allowing you to continuously capture your half-length or full-body photos and then use them to build statues. For example, US President Barack Obama used 3D printing technology to print the head statue.
Prospects: With the increasing number of simple 3D scanning devices and software, their prices are getting cheaper and cheaper, and eventually portable 3D capture facilities may emerge. It is expected that more 3D printing technology will show significant progress in 2015, so don't be surprised when you see your 3D model on your own wedding. Of course, if you don't want to print your own statue, you can also display digital 3D photos at the best angle. More importantly, these same scanning and capture tools are the basis for mass customization, and the company can customize individual products for each customer.
4. Print weapons
Anything is possible to develop. Transforming a real gun with a robotic glue gun is clearly not the most effective way to make a weapon, but it is enough to sensation the world. Cody Wilson, the protagonist of Netflix's documentary Print the Legend and a gun-powered activist, has unfortunately encouraged many imitators.
Prospects: After more guns and grenades are printed, regulators are increasingly worried that 3D printer technology will become the ultimate tool for anarchists.
5. Medical miracle
The most promising applications for 3D printing are in the medical field, and even at higher prices are acceptable, personal customization is very important. In today's medical world, Align Technologies, the world's largest 3D printing technology user, is rarely known. This company is the maker of the Invisalign system.
Prospects: We have seen successful surgery for skulls, face implants, and low-cost tracheal repairs, but I think there will be more good ideas in 2015. Although there is still a long way to go to print a full-function organ, it is a good idea to provide a personalized solution for individual patients. In addition, with these powerful 3D printing tools, practitioners will feel more comfortable and gain more experience.
Slide Switches
The Slide Switches is used to switch the circuit by turning the switch handle to turn the circuit on or off. It is different from our other serious switches, for example, Metal Switches , Automotive Switches, Led Light Switches, Push Button Switches, Micro Switches, The commonly used varieties of Miniature Slide Switches are single pole double position, single pole three position, double pole double position and bipolar three position. It is generally used for low voltage circuits, featuring flexible slider action, stable and reliable performance. Mainly used in a wide range of instruments, fax machines, audio equipment, medical equipment, beauty equipment, and other electronic products.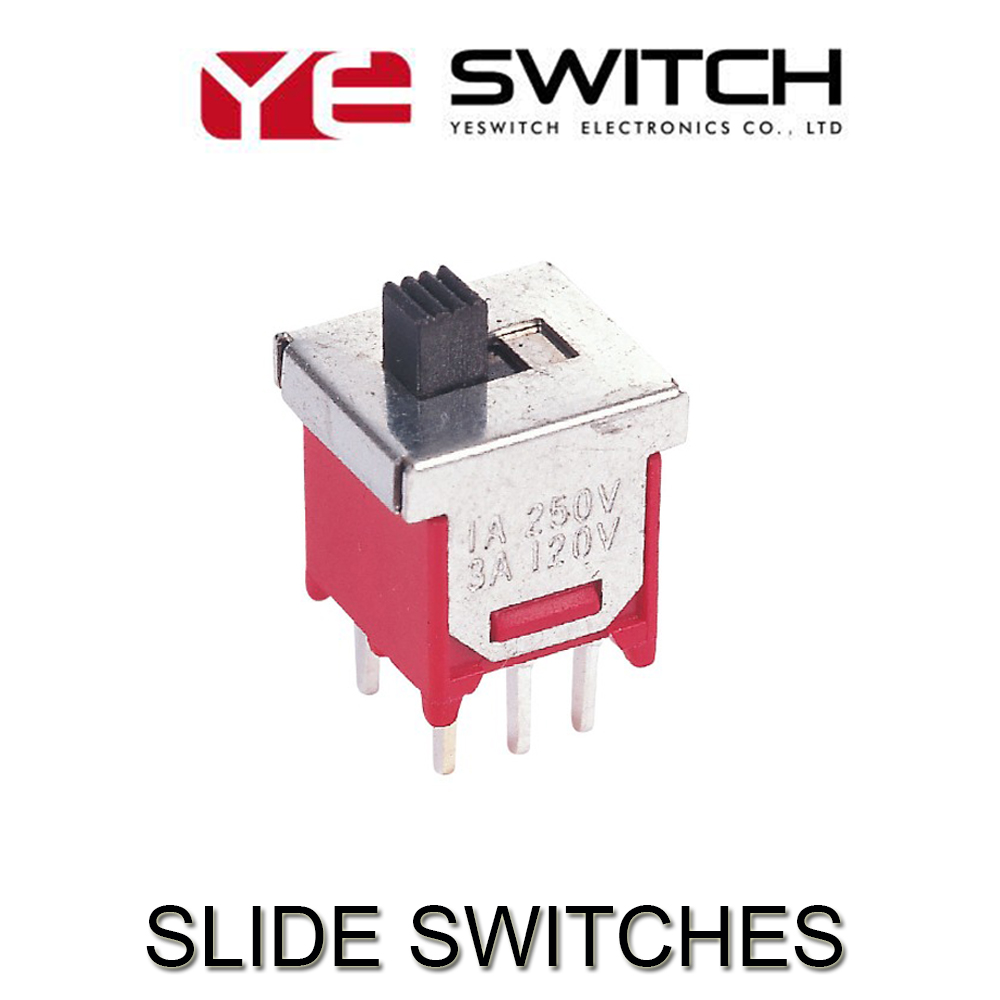 The Mini Slide Switches are divided into: low-current slide switches (right), and high-current slide switches (left). Small current slide switches are commonly used in electronic toys, digital communications. High current is generally used in electrical appliances, machinery, etc.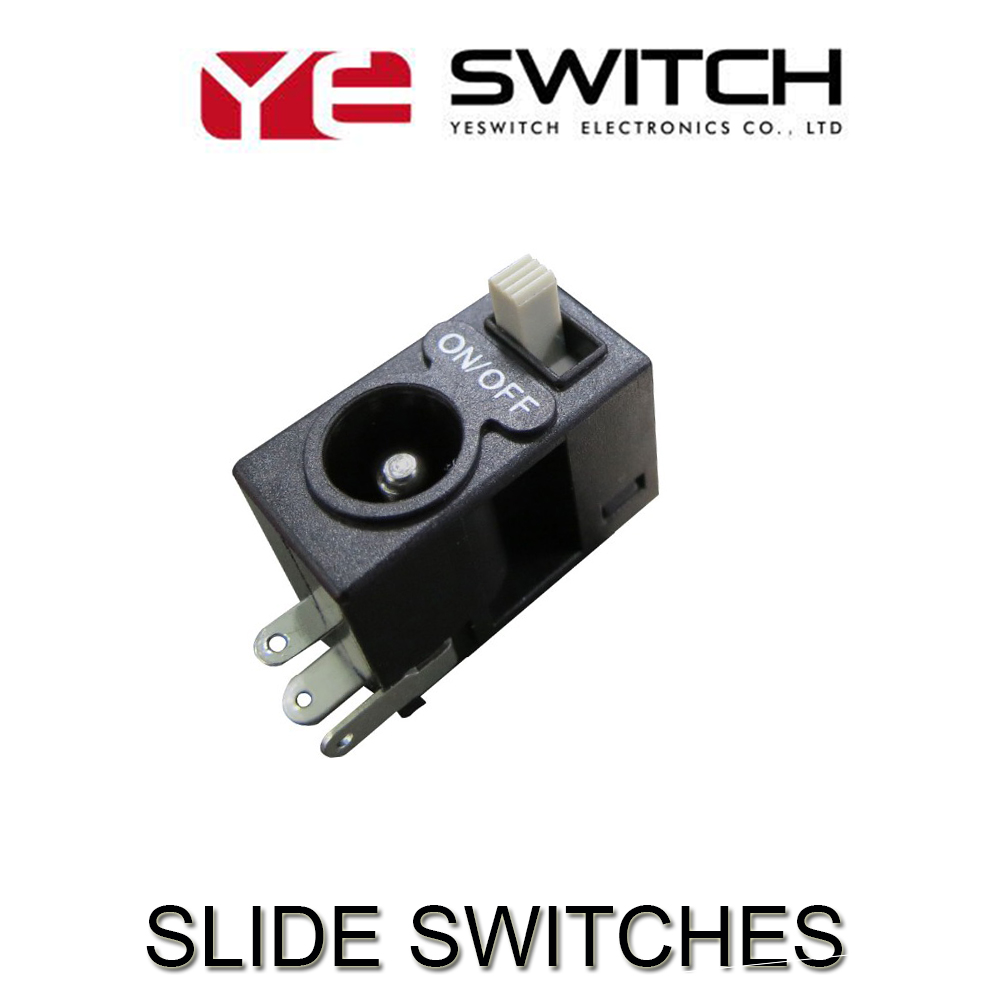 It can divided into 4 types modals, respectively are:
1. High-current sealed switch
Its rated current is as high as 5A, and it is sealed with epoxy resin. It is a large current sealed switch. It has a variety of terminal forms, contact materials are silver, gold, switching functions. Therefore, there are many types of subdivisions. Widely used in electrical appliances and machinery
2. Single sided snap-on surface mount type slide switch
The actuator is operated on the side and the pins are patch-type, so it is a unilateral spring-back surface mount type slide switch. Widely used in communications, digital audio and video
3.4P3T in-line slide switch
The contact form is 4P3T and the pin is in-line. It is 4P3T in-line slide switch. 4P3T determines that it has 8 pairs of pins. At the same time, there are two pairs of brackets that support, fix, and ground. Widely used in building automation, electronic products
4.Long actuator jacking type slide switch
Actuator 12mm, and located at the top of the switch, it is a long actuator jacking type slide switch. Widely used in digital audio and video, various instruments / instrumentation equipment
Slide Switches
Slide Switches,Micro Slide Switch,2 Position Slide Switch,Momentary Slide Switch
YESWITCH ELECTRONICS CO., LTD. , https://www.yeswitches.com