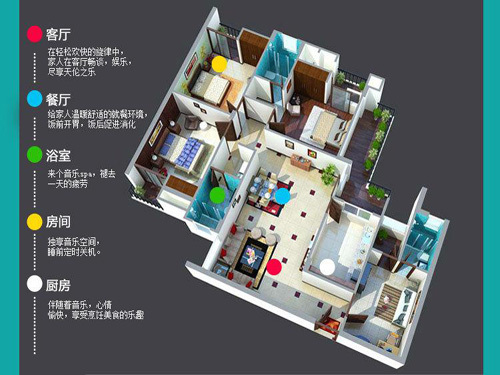 In this highly developed entertainment society, music has become a must for every one of us. Whether it is a young man or an old child, there is music that can make life more fulfilling and more enjoyable.

Shenzhen Dashuntuo Trading Co., Ltd. owns its own brand TASUN Dasheng, which is based on the concept of smart and smart life applications. It is specifically designed for family, hotel clubs, clubs, restaurants and other environments. The background music system is self-developed and produced. It is easy to install and powerful. Meet personalized needs. Demand derived technology, science and technology to change lives. TASUN Dasheng background music creates music light decoration, creating a high-quality product audiovisual experience. The brand comes from "sound" and adds more "sound" elements to life, allowing you to feel the value of TASUN's sound products.

Like the family environment in which we live, we must not lose music. There are many ways and means for everyone to enjoy music. In addition to the normal living room, study room, and bedroom equipped with a music player system, places like our kitchens, restaurants, bathrooms, and balconies, where we spend a lot of time each day, can also or need to configure music playback systems. When we were struggling to fry in the fumes of the kitchen, we opened the background music host and listened to music to cook and feel happy. We enjoyed it; when we ate in the restaurant, there was wonderful music with how pleasant it was. It is more appetizing before meals and promotes digestion after meals. When we bathe, we sing along with our favorite music. The traditional combination sound cannot meet these configurations. These places are either full of fumes or full of moisture. It is not a small space that cannot be installed with sound, or it looks uncomfortable and harmonizing, and it is not suitable for placing traditional sound systems. The background music system can break these restrictions, let music fill every space, and enjoy the "sounding" experience brought by music.

The background music controller carries out independent control in each installation area, creating an exclusive and personalized music environment, built-in imported digital amplifiers, high-fidelity sound effects, and no less than the HIFI-grade sound quality of traditional combined sound systems, satisfying everyone's high-quality music demand.

The family background music system is based on surpassing traditional amplifiers and combined sound. It considers product design and decoration applications from the perspectives of functional differentiation, intelligence, personalization, leisure enjoyment, art appreciation, taste and beautification!

The traditional audio equipment takes up a lot of space, and the equipment is bulky. Due to location restrictions, the range of the sound zone is also limited; the frequency of use is not high at all, and children and old people do not operate basically. The boot selection operation is cumbersome, and the operation is not easy to damage, and the experience is not good enough. And everyone likes different music, children like to listen to children's songs, the elderly like to listen to opera, young people like to listen to popular songs or rock, these are the traditional home theater and component sound can not be satisfied. The background music system can solve these problems very well, high quality and cost-effective, powerful but low cost, flexible and convenient operation, fast playback, support for wireless connectivity, at the same time equipped with a remote control, as simple as operating a TV. The products are stylish and compact, embedded in the wall to install, do not take up space, but also beautify the decoration, with the wall switch panels and other layout together with more beautiful and coordinated, so that the walls are also impressive.

Due to the good functions, advantages and experience of the background music system, it also extends to various industry fields. At present, in addition to home use, more are used in hotel rooms, club rooms, restaurant cafes, offices, real estate model and other places, through intelligent applications to enhance the taste and grade, while creating a good music atmosphere, creating theme effects, for the added value of the experience !

The background music system has gradually become the new darling of the modern home appliance and entertainment audio-visual industry. It extends from smart homes to commercial and personalized audio systems and equipments. It is widely used and its market prospects are even more impressive.

1. Electrical Laminated Wood is widely used as insulating and supporting material in transformers and instrument transformers. It has many virtues such as moderate specific gravity, high mechanical properties, easy vacuum drying, easy mechanical processing etc. The dielectric constant of this material is close to transformer oil, so it makes a reasonable insulation match. And it can be used in transformer oil of 105℃ for long time.
2. People usually use this material to make upper/lower pressure pieces, cable supporting beams, limbs, spacer blocks in oil-immersed transformers, and clamps in instrument transformers. It replaced steel plates, insulating paper sheets, epoxy paper sheets, epoxide woven glass fabric lamination in these fields, and cut down the material expenses and weight of transformers.
3. The raw materials of electrical laminated wood are high quality birch and willow timbers. After boiling, rotary cutting, drying, these timbers are made to veneers. At last the veneers will be glued with special insulating gluewater and processed under high temperature and pressure.

Electrical Laminated Wood
Electrical Laminated Wood,Birch Plywood Sheets,Birch Laminated Wood,Electrical Birch Plywood
Yingkou Dongyuan Electrical Insulation Board Co.,Ltd , https://www.dy-insulation.com